National Theatre Archives Visit 'Everyman'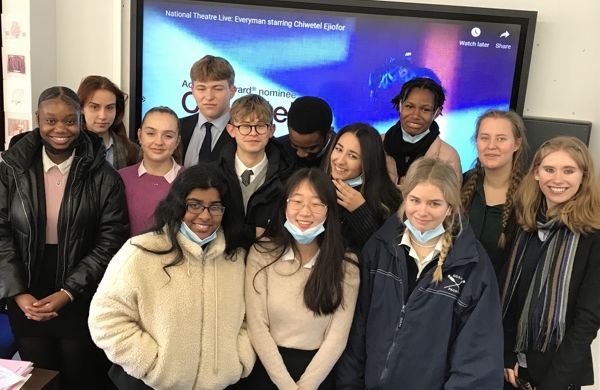 7 Mar 2022
During February, Year 13 English Literature students studying 'Everyman' visited the National Theatre Archives at Waterloo to see a recorded production.
They are working on comparative coursework essays and this brought Carol Ann Duffy's update of the medieval morality play to life. Directed by Rufus Norris and starring Chiwetel Ejiofor, students were able to appreciate the song, dance and rapping.
Everyman falls to his death from the roof of a high-rise office building after partying hard - and as he faces his 'reckoning' many ethical issues arise. We were shown a warm welcome and a taste of the theatre post-pandemic. Students now set to work on crafting their essays, comparing this play with the brilliant Arimah collection of short stories; "What It Means When A Man Falls From The Sky'.