Sixth Form Paris Trip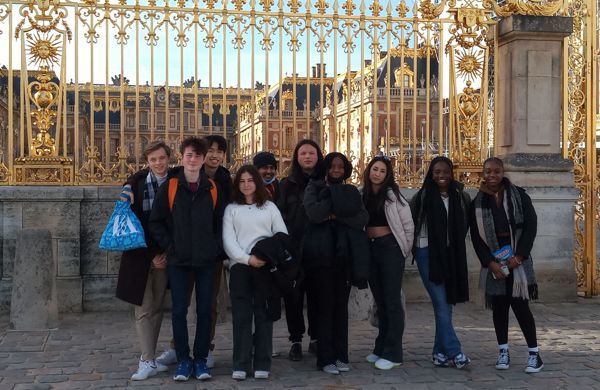 7 Mar 2022
After two years of uncertainty, the first trip to Paris since Covid 19 finally took place during Half-Term.
Ten Sixth Form students accompanied by Nathalie Komuves, Mr Carroll and Mrs Saunders left St Pancras Station bright and early on the 15th February. They stayed in a central Youth Hostel, most conveniently situated within walking distance of Notre-Dame Cathedral.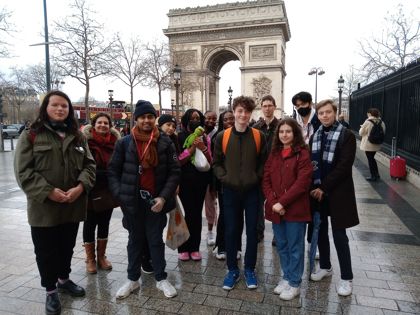 Over the course of their stay, they walked to the Paris Town Hall, La Conciergerie, visited Sainte-Chapelle and saw the famous cafés of the Left Bank. They used the funicular to go up Montmartre and Place du Tertre then took the metro to go to the Arc de Triomphe, after which they had free time on the Champs-Élysées.
They toured the Palace of Versailles and took part in an artistic treasure hunt among the Impressionist masterpieces of the Musée d'Orsay. In addition, they all enjoyed an evening cruise on the Seine from the sparkling Eiffel Tower to the Ile Saint-Louis and back and had two very different culinary experiences: one in the Jewish district of Paris and one at Chartier, an iconic 19th Century popular Parisian restaurant.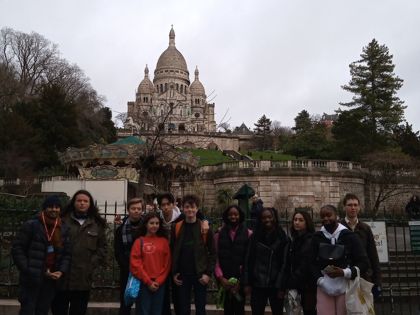 Our Tale of two Cities concluded on Friday 18th with each metropolis remaining true to itself: the Parisian transport system was on strike and there were no trains in the South East due to Storm Eunice! Plus ça change…